MARIE MAERTENS
( journalist, art critic, independent curator )
_______________________________________________________________
Oscar Tuazon
_______________________________________________________________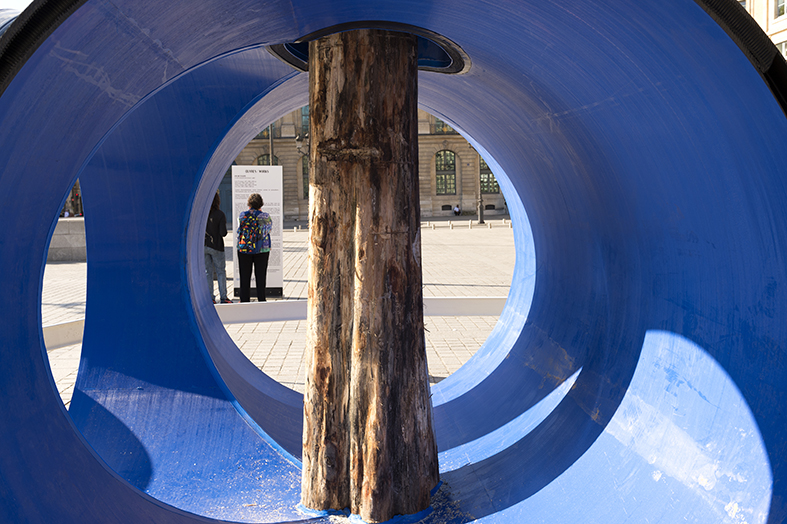 Fiac – Place Vendôme, 2017
Could you present this new work, 'Une colonne d'eau', that you're making for the Place Vendôme?

Pipelines for people, large diameter plastic pipes that you can walk through. In each of the sections of pipe you will see the trunk of a tree. Touch the tree, spend some time there. Sculptures that make a place, a series of spaces for people.

How did you conceive it, related to the history of Paris or the place itself?

 I think of it as a horizontal monument. A monument at human scale, that you can walk through. Like Courbet, who led the effort to demolish the Column in Place Vendome, I prefer the column on its side. This is an ad hoc monument to water, in a city made around water.

Is this project involved more generally in the climate's issues and notion of emergency?

Water infrastructure is a public space— flood control, rain water storage, the ongoing sustainability of clean water is something that concerns all of us, and in a time of intense weather volatility caused by a changing climate, I think it's interesting for all of us to actually go there, walk the lines, and think about it. In Los Angeles, where I live, the question of where the water comes from effects an entire region, connected by a network of pipelines. Water connects us all.

Is it a message you would like to communicate and develop a kind of awareness, of resistance?

The best an artwork can do is make space, I hope I can do that. 
You have studied in New York and after lived for years in France. How did it affect your sculptures' elaboration? Do you feel to be part of both cultures?

I feel very at home in Paris, and for me working on Place Vendôme is an extension of what I was doing when I lived there and worked at castillo/corrales, making space. Working with Xavier Douroux gave me a real understanding of the possibilities of an engaged public art, and this work is dedicated to that same ideal, a very democratic idea of what art can do, and how it can be used. There is an urgent need for public art now in New York, and everywhere. Sculpture is for people.

Concerning your shelters : is it environmental? Or/and again to be engaged?

I have worked with model shelter systems for a long time. My show at Chantal Crousel, Shelters, was the first time when I could see one of these systems more than just as a 1:1 model, but as a functional proposition. This is a model for engagement, a functional kind of modular space that can be envisioned and built in a variety of different contexts. It's work that is made to be used. 

What is the part of the performance in your work? I know that you've collaborated  with Vito Acconci…

The audience is the performer, that's an idea from Vito. He had great respect for his audience, and strange expectations, and his works were a kind of performance-architecture, a way of engaging other people in the creation of the work. Performance is an unpredictable category, you don't know the outcome. This is what I hope my work does, make space for performance. 

You use few and simple materials, like concrete, steel, wood, glass… because this is the basic? Is it also a question of balanced between nature and architecture?

I'm interested in expediency of materials, what works best for a particular function. The thermoplastic pipes produced by Polypipe are a sustainable solution to water engineering on a massive scale. A relatively sophisticated material used to manage the elemental flow of water— and to me, that is a sculptural process, working with materials, joining one object to another.

Is it important to put together huge pieces, which are very often impermanent?  Is the concept of alternative very relevant for your work?

What an artwork can produce, in the best case, is ideas. Working at a large scale means working outdoors, in public, with other people. An artwork should generate something outside itself, and Place Vendôme is a place to intervene in the flow, interrupt the way people see things. The pipe is a kind of optical device, a hole you can see through.

You are this kind of artistes who doesn't show his intervention finally… On purpose?

I leave things unfinished. I think my intention, even my interpretation of what the work means, is less interesting than what other people do with it. 

Do you have impression to make silent installations?

I hope not! Art is made to be used, to be a place of debate and dissent, a platform. I do make quiet spaces, though. I think one of the amazing things that can happen in a city is to find a moment of quiet solitude by yourself, and I like to think my work makes space for that sometimes. 

You said that you are interested in the process and not in the construction itself, can you come back to this?

The process extends after the completion of the work, and it includes what happens to the work over time, how it changes, how people use it. 

Is the concept of unwillingness could summarize all your work?

It would be nice to sum it up in one word, and I believe that a work of art is a powerful means of resistance right now. A sculpture can be like a hole in the world, an opening onto another reality. But it can be many things, too many to mention, if anything I would say my mainframe is the opposite: I'm willing. Willing to work, willing to try anything, willing to believe that an artwork can change the space around it.
October 2017
photo credit : Marc Domage